Freight Planning
Terminology
Commodities

Shipment – A way of classifying the type of freight being shipped.
Value of Shipment – The value of shipments is the market value in dollars of goods shipped by businesses.
Ton-miles – Ton-miles measure the shipment weight multiplied by the mileage traveled by the shipment.

Characteristics

Most U.S. freight shipments by value and tonnage and move less than 250 miles (402 kms)
By value, the top five commodity types moved by freight were: mixed freight, gasoline, motorized and other vehicles, electronic and other equipment, and pharmaceutical products.
By weight, the top five commodity types moved by freight were: gravel and mixed stone, gasoline, coal, fuel oils, and non-metallic mineral products.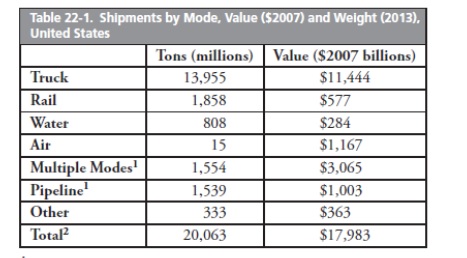 Different modes of freight
Trucking

2.4 million truck tractor trailers registered in the United States in 2012
Highway capacity impacts
Safety and environmental impacts

Rail

United States transported 1.76 billion tons of originating freight only 11% of total freight in US
Inland Water and Maritime
576 million tons in 2012 and 74% of US-international trade

Air Cargo

65 billion freight revenue ton-miles,but 22.5% of total value of US freight vs 1% of weight

Pipelines

8 percent of the total freight ton-miles by all mode

Intermodal freight

Seaports has been the increasing use of containers as a means of transport.
Community impacts
Traffic Flow and Congestion
Safety and Security
Economic Development
Environmental Concerns
Noise and Vibration
Land Use and Value
Impacts of public policies on freight sector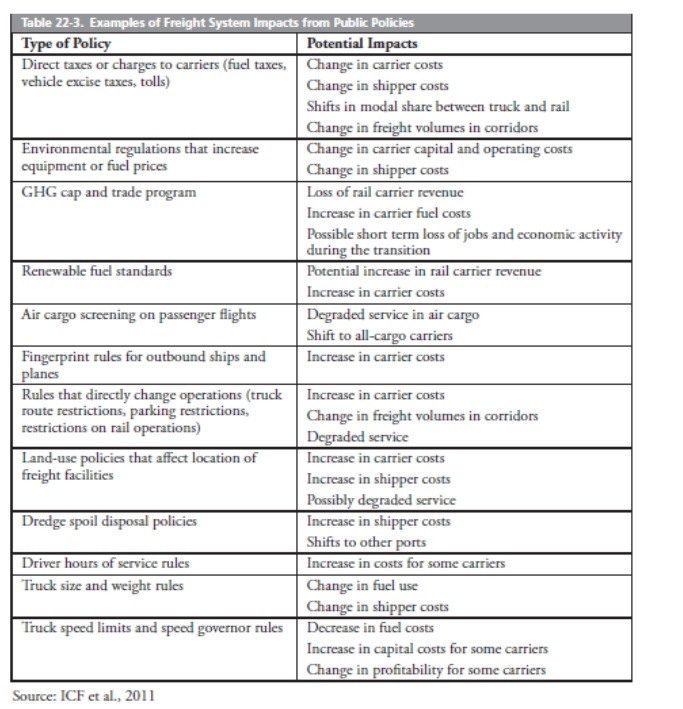 Freight planning
Institutional Structure
Goals , Objectives and Performance measures
System Designation

Data Collection and Analysis

Internal-external Movements
Through Movement
Internal Movement

Needs Analysis and Models

Why, what, how ,who and where

Evaluation and Prioritization of Freight Strategies

Mitigate interchange bottlenecks.
Maintain and enhance intermodal connectors.
Add mainline rail capacity.
Implement rail grade separations.
Performance Measures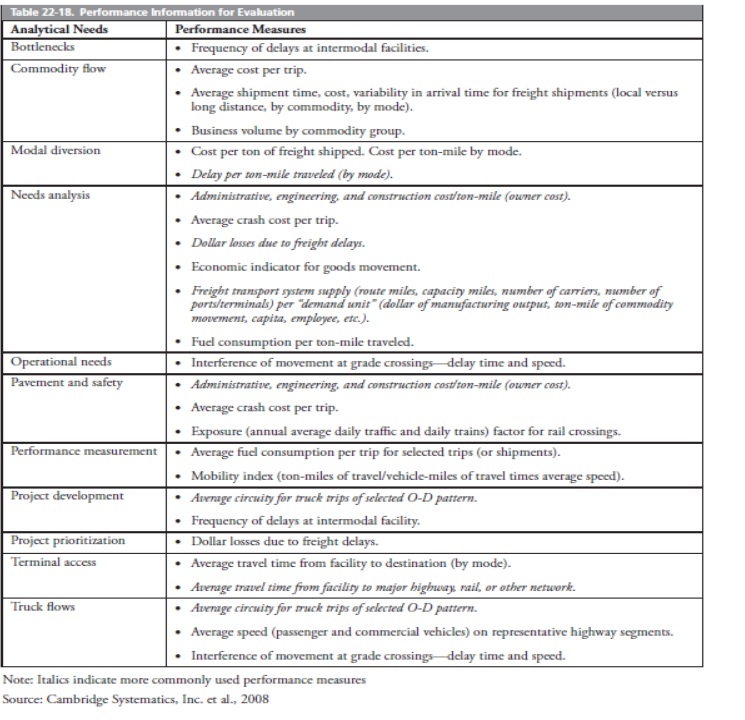 Transportation Impact Analysis
An impact analysis should always begin by establishing the basic terms of reference with relevant public agencies and the developer or owner.
These will include, at a minimum, defining the transportation need, identifying impact analysis thresholds as established in requirements, agreeing to a scope of analysis, defining study area limits, establishing the forecast hours (and days) to be analyzed, and defining the study horizon years.
The types of information needed:
Characteristics of current and proposed nearby developments.
Estimated future development traffic and access strategies.
Combined traffic volumes on surrounding and approach roads.
Traffic growth rates.
Road system adequacy.
System needs.
Access plans.
Traffic Impact Analysis Process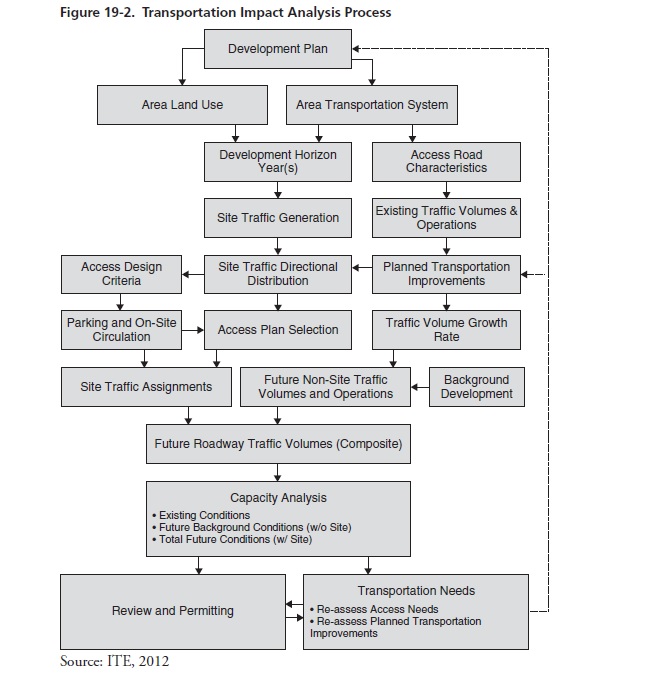 The key outcomes of this process, from the property owner's perspective, are the permits and other permissions granted by public agencies to build the development.
Study Area Boundaries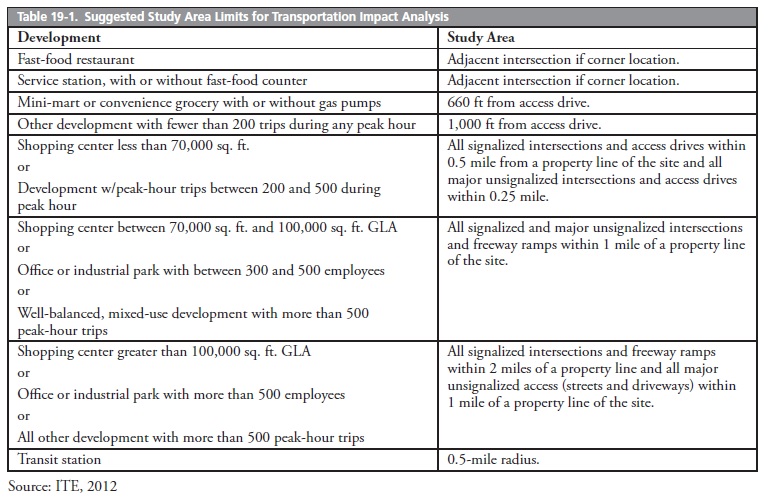 Time Horizons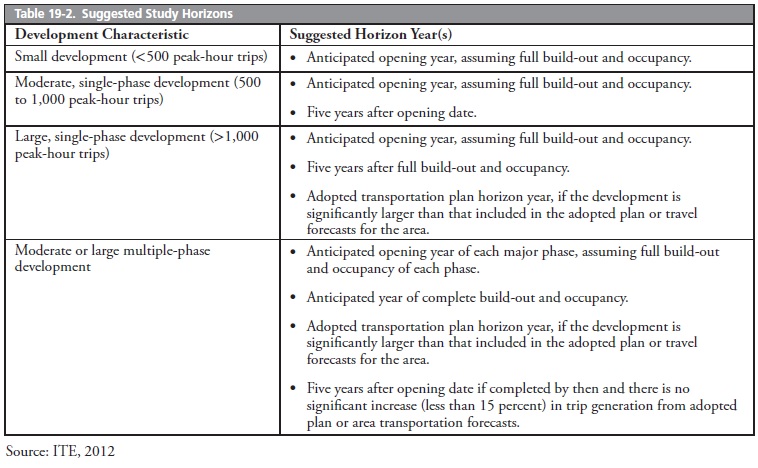 Background Data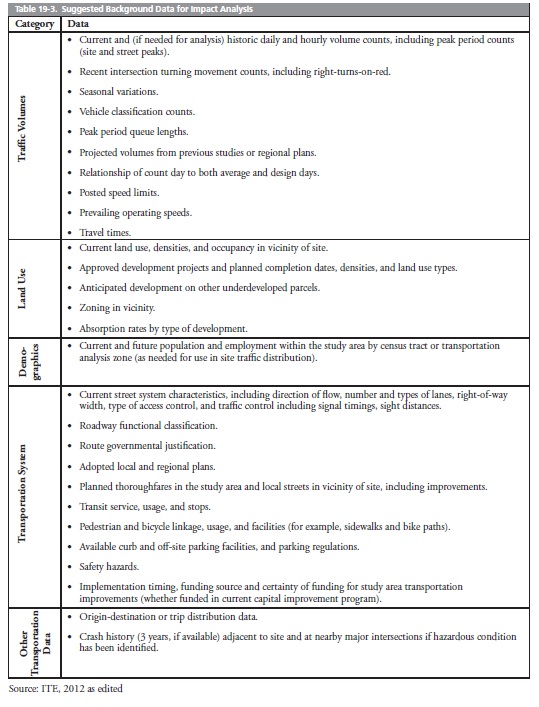 Performance Measures
The site impact-related performance measures ofmost concern to transportation planners are those required by administrative regulations, as well as those desired by local decision makers.

Travel Demand Analysis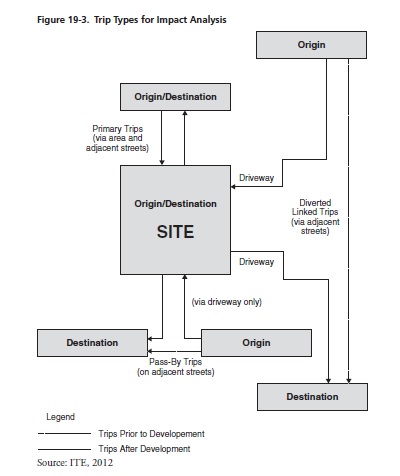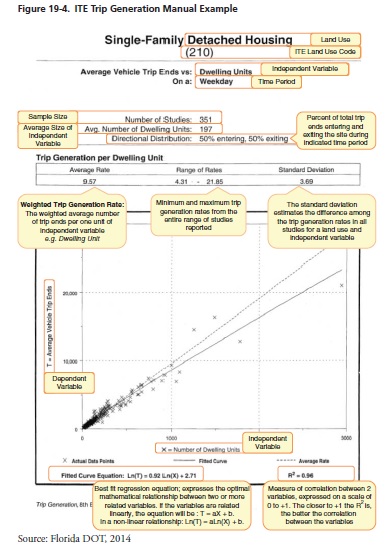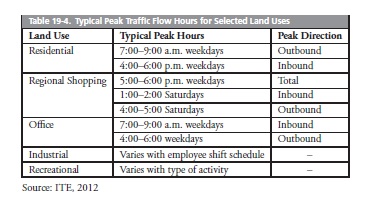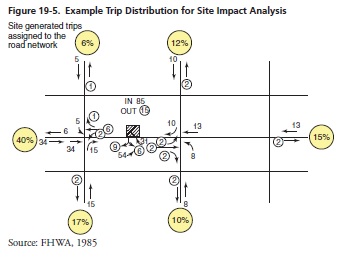 Analysis Procedures
When improvements are added, service-level computations can indicate how well the facilities operat, and it is often an iterative process.
Ideally, needed improvements should be consistent with those planned or programmed by public agencies. Multimodal assessments are essential in densely developed areas and for large mixed-use or commercial developments.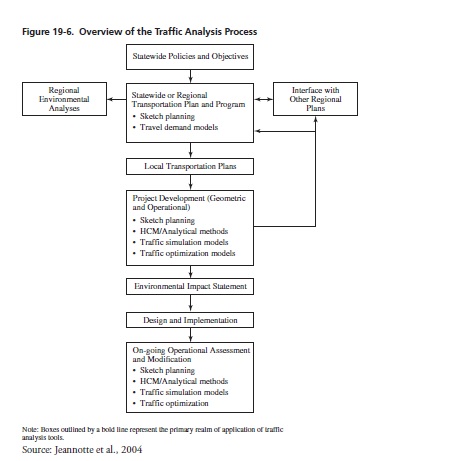 Choice Models